South Pacific: Setting Out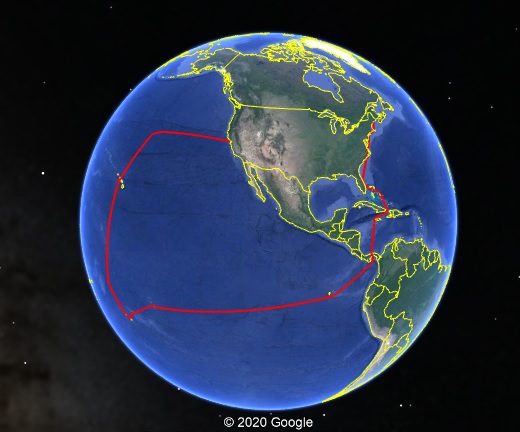 January 2004: The Pacific voyage of Thor Heyerdahl in Kon Tiki, Henry Dana's "Two Years before the Mast," and Gauguin's paintings of Tahiti have all been inspirations for the classical romantic dream of sailing the South Pacific, amplified, perhaps by a stereotypical mid-life restlessness.
In defense of middle age, my own dream of sailing the South Pacific dates back to my early twenties when a traveling buddy and I promised each other we'd circumnavigate the globe before our fortieth birthdays. As fate would have it, forty came and went without so much as a rowboat. At least by my late forties, I had bought a sailboat, the Lillian B., capable of ocean voyaging. However, having a good ship brings one no closer to the South Pacific then owning a good pair of running shoes makes you a marathoner. What middle age did bring was the understanding that leaving dreams for the future is a dangerous strategy. Now, over fifty, I realized that there may never be a better time to make such a trip. Six months from that conclusion I find myself "standing at the door," so to speak, with hopefully a long voyage ahead.
The original dream of circumnavigating the globe has been scaled back to a "sub-orbital" sail to the South Pacific. With the help of my twenty one year old nephew, Peter Fasoldt, and an experienced sailor, Dave Dickerson, we have moved the Lillian B. from her home port in Rockport, Maine to Stuart, Florida where she lies in waiting. In February, my long time friend, Dick Hiatt, my cousin, and I will island hop down the Bahamas chain, through the Windward Passage between Cuba and Haiti, and then on to Jamaica. There, my wife, Kay, plans to join us for a week on the beaches of Jamaica, after which Peter, Dick and I continue to Panama for a transit of the canal. From Panama we sail for over a week to the Galapagos Islands, and then for a month across the western Pacific to the Marquesas, the first set of islands in the South Pacific. The route and time of year have been selected such that typhoon season is over and the tradewinds predominate. Numerous books and Internet articles provide advice on what to do and how best to make the journey. Following in the wake of many predecessors, we will find our way to Tahiti, where my son and wife will join the crew, and Dick Hiatt returns home. After that, the plans become vague, but hopefully include the islands of Tonga, Nuie, the Samoa's and Fiji. By next year at this time, like Dorothy in the Wizard of Oz, I hope to be back in "Kansas," but with a fresh view of the world and the knowledge that there is no place like home.