Lillian B.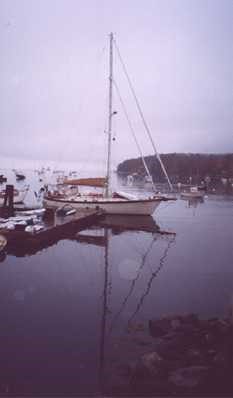 The Lillian B. is a forty-foot ocean going sailboat, a Baba 40' designed by the renowned naval architect Bob Perry. She is a cutter rig, which translates to a single mast with a mainsail and two foresails. Her stern is canoe shape, to better accommodate following seas. Below decks, she has key amenities for comfortable living, including a galley, navigation station, dining area, two separate cabins besides the main cabin, and, last but not least, a shower and toilet (head). Built in the Far East, she boasts finely crafted teak woodwork, both above and below deck. The warm woodwork of the cabin makes it a pleasure to be on board, even when not underway. Her off-shore equipment includes radar for avoiding moving and stationary objects, SSB radio for long distance communication, a refrigerator/freezer, a water maker to supplement her 140 gallon water tank, navigational gear, a six person life raft, a wind generator to charge the batteries, and a 55 hp diesel engine with enough fuel for 300 to 400 miles of motoring. Storm sails have been added along with a drogue chute to trail in rough seas. Extra latches and guards have been added to the doors and lids on her ample storage compartments in case of rough seas. In short, she is ready for the open ocean.                                             
Formerly of a different name and owner, the Lillian B. now hails from Rockport Maine and has been renamed after my grandmother, Lillian Boggs Schueler. Every summer, when I was a child, my parents would load all five children and the occasional dog into the family station wagon and we would undertake the two-day drive from the mid-west to my Grandmother's house on the coast of Maine. It was both her home and an antique shop. Painted black with white trim, the house would change from black to deep purple as the paint faded. On the front lawn stood a brightly painted wooden carrousel horse, now long gone. Inside were typical Grandmother treats, including fudgesicles in the freezer and bowls of M&M candies. Behind the house, were woods for exploring, including the Camden Hill State Park and Mount Battie, with its magnificent views of Penobscott Bay.
The Black House
Later, in college, I stayed with my Grandmother while I worked at a local summer job in town. With TV reception in Maine nearly non-existent in the early 70's, the evenings were a chance to debate the world events of the time and in the process narrow the generation gap. Some years later, in 1979, my grandmother died at the age of 82, but the memory of her and the magic of Maine remains. I hope she would be pleased.