Wednesday, July 21, 2021
(Late entry)
Latitude 54o 38' N
Longitude 8o 26' W
Killybegs Harbor, Ireland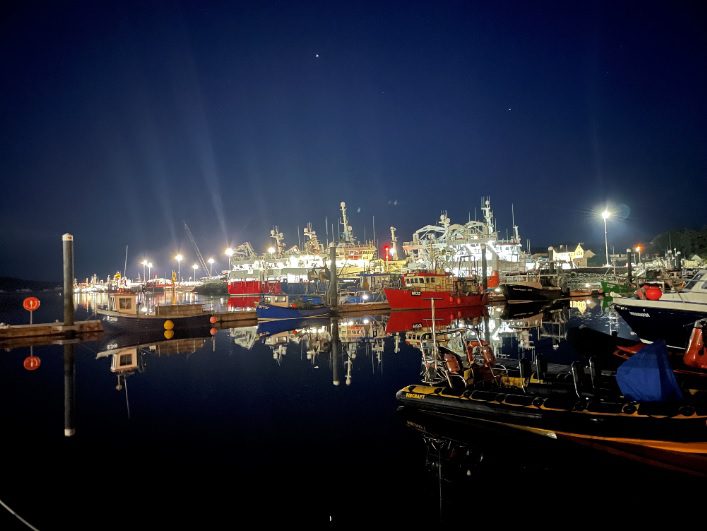 We've now been in Killybegs, Ireland for six full days.
After dropping anchor in Killybegs harbour at close to midnight of the 14th, the beeping of the anchor alarm woke us up the next morning at 10 am. It's hard to judge how long we would have slept if not for the alarm.
When anchored, the boat's navigational system has an option to sound a frantic series of beeps if the boat migrates a selected distance from the spot where the anchor was dropped. The distance I select is only 180 ft which, given 60 feet of anchor chain and 40 feet of boat, means she only has to swing around on her anchor due to the wind or tide to signal an alarm. But I don't mind a false warning and, besides, it was past time for us to get up and call the harbor master.
The Harbor Master's name is Fergal. I still am not sure if that's his first or last name, but in either case it appears to be sufficient, like a celebrity who only needs one name. Everyone in town knows him as Fergal. From the start, Fergal was friendly, sympathetic, and even apologetic about our plight. We called in at 10:30 and he asked a series of quick questions, including who were we, where had we come from, how long it had taken, had we read Marine Notice No16/2021 and had we completed the Maritime Declaration of Health Form? The answer to the last two was an apologetic and confessional "no." He then read us Marine Notice No16/2021 which explicitly stated that the crew of a pleasure craft is not eligible for a Mariner's COVID exemption, placing us in the category of a tourist entering Ireland. He concluded by saying he would send us the Health Form to fill out and he would check with the higher authorities. He also said not to worry.
Getting the Health Declaration Form was not an easy task. It would have been even more difficult to fill it out and get it back to the Harbour Master. Although the form is less than 1 meg, a trivial size for a smart phone, it exceeded the size limit set on our Iridium system, which immediately choked in trying to download it and is still not delivering mail.
Even if we had been able to download the file, we had no way to print, edit, and return it to Fergal. Fortunately, "we know people." Brimmer called his wife Linda and she found the form on line. It was one-size-fits-all, including questions like had we found any stowaways on board. We provided Linda replies to all the question, including the one about stowaways, and she e-mailed the completed document to Fergal. Fifteen minutes later he called us to tell us to come on in. I assumed he meant for us to use the Zodiac to row to shore for further processing, but instead he meant for us to bring Lillian B into the dock and pick a place to tie up. We had officially been accepted into Ireland.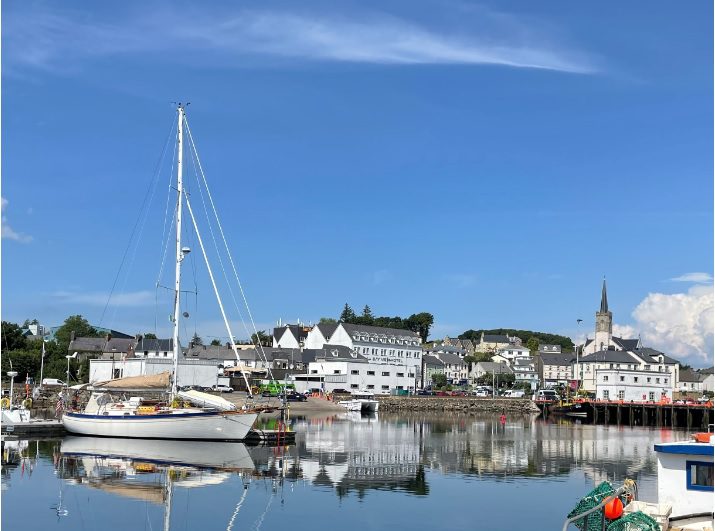 Once we were firmly docked, Fergal stopped by the boat to welcome us, get us set up with water, and answer the questions asked by arriving yachtsmen all over the world, like where can I wash my clothes? Figuratively shrugging his shoulders, he explained what we already appreciated, that the regulations didn't make any sense for someone arriving from the US after 24 days at sea. "How can you get a test within 72 hours of arrival? And the regulations are changing daily, so they might not be the same as when you left. What am I supposed to do, turn you away?" We couldn't have agreed more and were very grateful that logic and the Harbour Master had prevailed in Killybegs Harbour.
And then we proceeded to enjoy our freedom, starting with fish and chips and a beer on the sidewalk outside Melly's, which overlooks the harbour, as do virtually all the restaurants in town. Ireland is taking COVID precautions more seriously than in the US. No pubs, no indoor dining, no gatherings for live music, and masks required indoors. But outside everyone was enjoying life. The clientele at Melly's were sharing tables and conversation. As the guidebook said, when someone asks how you are doing in Ireland, they really want to know, and we ended up discussing the weather, politics, child rearing and Elon Musk with the young family next to us. In addition to being the largest fishing port in the British Isles, Killybegs offers a variety of fishing, diving, and boat tours of the bay. It is a vacation destination, especially with the reportedly exceptionally sunny weather we've seen since our arrival.
However, our focus was not on vacationing, but on the day-to-day aspects of living, twenty-four days on a rocking boat at sea earns an enhanced appreciation of mundane tasks. Simple pleasures become exquisite, like a hot "Hollywood Shower" with unlimited access to fresh water on board a docked boat which felt as if she were sitting on firm ground. That, coupled with the friendliness and helpfulness of everyone we met made our arrival in Ireland the best day of the trip.
And the second day, we did laundry.