South Pacific: Grand Bahamas
Wednesday, February 25, 2004:
N 27o31.087′ W 078o38.186′
(Port Lucaya, Grand Bahamas Island)
We have arrived in the Bahamas! Today and yesterday were very long days. The trip over was eventful and served as a good shakedown trip. The training started with the exit from the Manatee Pocket, during which time the autopilot engaged, locking the rudder in position. In hindsight, I should have realized the problem earlier, but it turned into a good exercise for the crew as we scrambled to install the emergency tiller and to drop anchor before Lillian drifted down into the boats in the Sailfish Marina. Once that was resolved, we headed south thirty miles via the intercoastal waterway to Lake Worth. Other than numerous bridge openings, that was uneventful except perhaps for a momentary grounding near a dredging operation.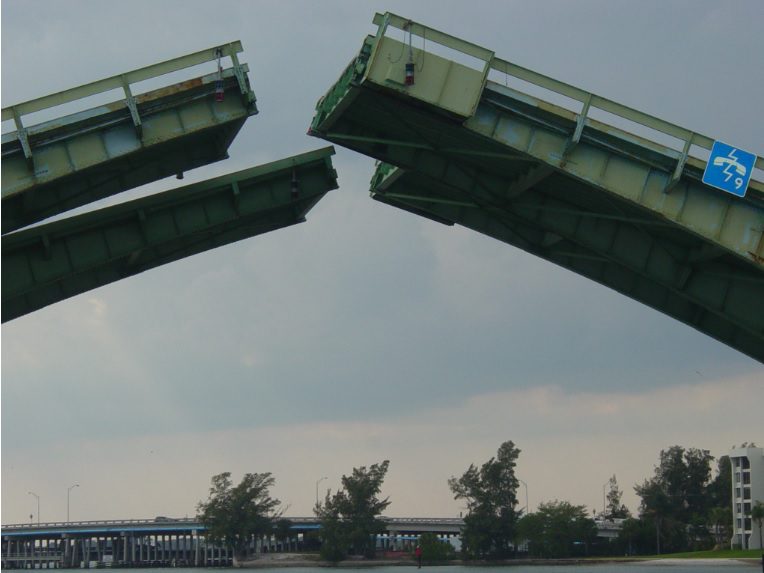 At Lake Worth we entered the Atlantic, motoring through large swells at the channel entrance. The night crossing of the Gulf Stream was occasionally rough, at times with no wind, at other times too much as we passed by some midnight thunderstorms. Peter did an excellent job of reefing the sails and other deck work, throughout the night. We're all dead tired. Early this afternoon we pulled into a Marina at Port Lucaya and cleared customs. A Bahamian courtesy flag now hangs from the yardarm. Tomorrow we push towards Rum Cay, enroute to Jamaica. That's it for now, other than to note that today is Lillian B. Schueler's birthday. I believe she would have been about 106 years old. Tomorrow is Peter Fasoldt's. He'll be 22.